Meet the Chicago Executive Board!
Anne Corinne Carroll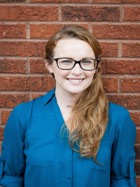 Anne Corinne Carroll currently works at Rush Medical Center on the Assessment & Evaluation Team while pursuing a PhD in Occupational Health Psychology at East Carolina University. Previously she worked as a Content Analyst at Hanover Research where she focused on using surveys for program evaluation and school climate assessment. Anne uses R and her background in psychometrics and structural equation modeling to analyze a variety of survey data. In her free time, she enjoys yoga, kayaking, and exploring Chicago.
Melinda Conners
Melinda Conners, PhD is a research associate/postdoctoral fellow with the Marine Sustainability Ecology Lab at Old Dominion University. Melinda's science focuses on understanding the causes and consequences of animal movements and migrations, with research questions that are particularly relevant to conserving wildlife. She has worked with animal bio-logging technology and remotely-sensed environmental data for over 10 years and has fully converted to R for all her science and data analysis needs. She is particularly fond of the open-source nature of R and the strong community behind it. Melinda is a California transplant to Chicago and when not behind her computer in Fulton Market, you can find her covered in mud and lost in the woods with her german shepherd Tuk.
Zaynaib Giwa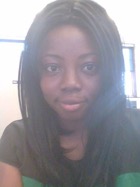 Zaynaib (Ola) Giwa is a Clinical Data Analyst at the University of Illinois at Chicago. Zaynaib Giwa is a self-taught programmer who uses her talents as a consultant of small businesses and startups. Zaynaib has redesigned and maintains a website for the City of Champaign- Urbana Regional Planning Commission, the Illinois Sustainable Technology Center, and Performers Music. She is a graduate of the University of Illinois with a Bachelor's Degree in Statistics and a Masters Degree in Library and Information Sciences. You can read about her latest projects on her blog, zenagiwa.wordpress.com.
Abhinaya Konduru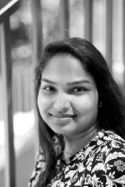 Abhinaya Konduru is a VC at M25 Group. She double majored in Finance and Mathematical Computer Science at Univeristy of Illinois at Chicago. While she was there, she led the finance student organization and co-founded the Portfolio Management Team which is now one of the largest organizations in the college. She was also a part of numerous programs to help increase digital literacy in the community by partnering with Google and Blue1647.
Katherine Simeon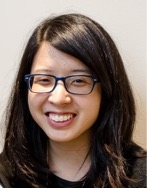 Katherine Simeon is a PhD Candidate in Communication Sciences & Disorders at Northwestern University. Her research looks at how experience with sound (or lack thereof) impacts language processing in children and individuals with hearing loss, specifically cochlear implant users. Katherine uses R for data cleaning, statistical analyses, & data visualization. In her free time, she enjoys knitting (both literally and with knitr) and running.
Caroline K. Williams
Caroline K. Williams is an aspiring data scientist. She was introduced to R at Blue1647 in May 2017. Before she moved to the US, she worked for an Indonesian non-profit organization in the field of Physics outreach. She recruited volunteers to organized the first Asian Physics Olympiad. She was also appointed as the head organizer of the first Indonesian Physics Amusement Park festival that attracted hundreds of participants. As a result, she was awarded a full scholarship from her work to finish her Master's degree in Physics. While in colleges, she was elected as president of Society of Physics Students, attended the London International Youth Science Festival, and co-authored several Theoretical Physics papers published on Physical Review Journals. She also published articles in student newspaper and hiked mountains. She is passionate about science, environmental issues, and journalism. She enjoys volunteering, travelling, and outdoor activities.
Amy Yang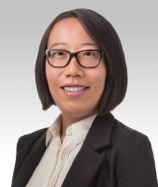 Amy Yang is a Sr. Data Scientist at Uptake where she conducts industrial analytics and build prediction models to major industries and help them increase productivity, security, safety and reliability.She began using R for simulation and statistical analysis during her study at the University of Pennsylvania where she received her MS degree in Biostatistics. She also teaches R programming and statistical courses for graduate students. During her free time, Amy enjoys playing board games with friends, skiing, and WERQ dance.
Founders of R-Ladies Chicago
R-Ladies Chicago was founded in July 2017 by Angela Li. We are grateful to the founding members who have brought our community to life: Angela Li, Amanda Dobbyn, & Kaelen Medeiros.